Fish Switch is the 6th episode and gender swap version of Season 5 of Fish Hooks Fanon
Episode Summary
Edit
On their day at school Olivia, Maya and Bob are having a gender swapping day at Freshwater High.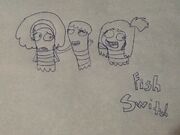 End Credits
Edit
Snake and Mouse are gender swapped as a squirrel and a dachschund.
Running Gags
Edit
Bud's Pets &...
Edit
Tacos and Burritos
Background Information
Edit
Mr. Lips has a pet dogfish who looks similar to Attila is name is Princess and she is a French Bulldog.
Continuity
Edit
Allusions
Edit
This episode might be a nod to Adventure Time episode Fiona and Cake, because they both boys gender swapped as girls and girls are gender swapped to boys.
There was 2 Regular Show actors in this episode, Piranhico is voiced by William Salyers also voices Rigby and Dr. Newt is voiced by Minty Lewis also voices Eileen.
Finnlay, and Mr. Tangson are voiced by Tom Kenny and Clamuel is voiced by Clancy Brown also provides the voice of SpongeBob SquarePants and Mr. Krabs from the television show of the same name.
Rosie Pincherson was voiced by Cheryl Chase, also voiced Angelica Pickles from Rugrats, They're both mean girls, tricksters and have blond hair.
Mrs. Clownfishberg, Mack and Mackenzie Mackerel are voiced by Tara Strong, also voiced Ben 10 as Ben, Powerpuff Girls as Bubbles, Teen Titans and Teen Titans Go as Raven, Rugrats as Dil Pickles, Foster's Home for Imaginary Friends as Terrence, The Little Mermaid II: Return to the Sea as Melody, Chowder as Truffles, My Little Pony: Friendship is Magic as Twilight Sparkle, Skylanders Giants as Seraphina, a Wilikin, and Drawn Together as Princess Clara and Toot Braunstein.
Shelldon was voiced by an American rapper, Dwayne Michael Carter, Jr. or stage named as Lil Wayne.
Grey Delisle as Maya
Miranda Cosgrove as Olivia
Bruce Willis as Bob Clownfishberg
Lil Wayne as Shelldon
Clancy Brown as Clamuel
John DiMaggio as Esmarty, Kabob
Tom Kenny as Finnlay, Mr. Clownfishberg
Joey King as Ally Plastic
Yvette Nicole Brown as Mrs. Baldwin
Jenifer Lewis as Mrs, Mussels, Coach Trout
William Salyers as Piranhico
Albanna Ubach as Jenny Krill
Whoopi Goldberg as Octopink
Minty Lewis as Dr. Newt
Cheryl Chase as Rosie Pincherson
Rob Schnieder as Male Winnie Grouper named Vinnie
Tara Strong as Mack and Mackenzie Mackerel, Mrs. Clownfishberg
Hayley Williams as Riley Jefferson
Jack McBrayer as Mr. Lips
John Stamos as Tunny
References
Edit
Previous: Haunted Barn